If you don't have an API key yet, create one before continuing here. Need help creating? Click here.
There are two ways to add your exchange in nuxBot.
1) (Recommended way)
You can insert the API via the nuxBot GUI. Enter the API keys you received from your exchange in the fields under the "Exchange Settings" category.
Please scroll down or click here to go to "What exactly do I have to enter in the fields?" to see more important details.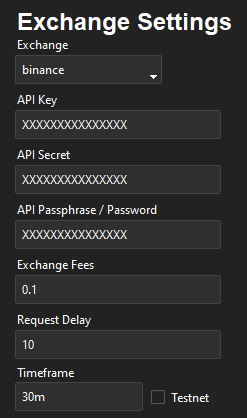 2)
You can add the API via the by opening the "config.ini" file and inserting your API keys under "exchangeSettings".
Example:
[exchangeSettings]
exchange = binance
apikey = XXXXXXXXXXXXXXX
apisecret = XXXXXXXXXXXXXXX
apipassphrase = XXXXXXXXXXXXXXX
fees = 0.1
requestdelay = 10
timeframe = 30m
testnet = False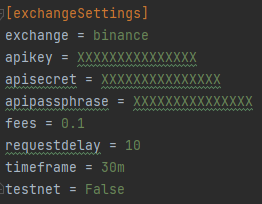 What exactly do I have to enter in the fields?
Exchange: The name of your exchange. You can also press the small arrow to select the exchange from the dropdown menu to avoid errors when writing the exchange.
API Key: The API key that the exchange gave you when creating the API.
API Secret: The API secret that the exchange gave you when creating the API.
API Passphrase / Password: If you have to set a passphrase/password for your exchange or you have received one, you can enter it here, if not leave this field empty.
Exchange Fees: The maker/taker fees your exchange takes. Please check with your exchange how much your exchange takes. Most exchanges call this the "fee rate". The fee rate of Binance and KuCoin is currently "0.1".
Request Delay: The request delay is how long nuxBot waits until it sends another request to your exchange, e.g. to check the current price. Most exchanges don't need more than 10/15 seconds of delay. If your console/errors.txt says "Rate Limit exceeded! Raise your Request Delay!" it says you should increase your request delay.


If you use KuCoin:

KuCoin will always complain no matter what your Request Delay is, so just leave it at 10.
Timeframe: This is the timeframe that your nuxBot will trade with. This timeframe is also used to calculate your indicators.


Tip

: Set the timeframe low to trade small trends, set it higher to trade longer trends.

Please make sure that your exchange also supports this timeframe.
Example: 1m, 3m, 5m, 15m, 30m, 45m, 1h, 2h, 3h, 4h, 1d, 1w, 1m, 1y
m = minute
h = hour
d = day
w = week
m = month
y = year
Testnet: Only enable testnet if your exchange has a testnet and you want to trade on the testnet. A testnet is like the main exchange but with non-real money, also called "paper trading". If your exchange doesn't have a testnet, you can still test your strategy before using it in the real market using our Simulated Trading feature.