DCA (dollar cost averaging) is used to make additional purchases when the price falls. This allows you to reach a lower average price per unit when prices moves down, making for a lower possible profitable sell price.
To enable DCA you must first check the DCA box, then you must check one of the two available DCA options:
DCA by -% (Buy by when the whole trade -x% is in the minus.)
DCA by Bollinger Bands (Buy if High Bollinger Band drops below your last purchase price. You can adjust the BB length yourself if you want.)
It is only possible to activate one DCA option. If you have both on, DCA by -x% will be used.
If you want to change DCA via config you have to change these settings: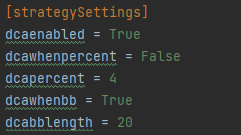 dcaenabled: Enable DCA.
dcawhenpercent: Activate DCA after %. Requires "dcapercent" input.
dcapercent: Number after how much -% a DCA should be made. Do not enter a minus, the bot does that automatically! Only needed if "dcawhenpercent" is activated.
dcawhenbb: Activate DCA after BB (Bollinger Band). A DCA will be made if BB's high band falls below your last buy price. Requires "dcabblength" input.
dcabblength: The length with how many bars BB gets calculated. Only needed if "dcawhenbb" is activated.
Don't forget to set "DCA Buy amount" and "Max. DCAs allowed" under Balance Settings.